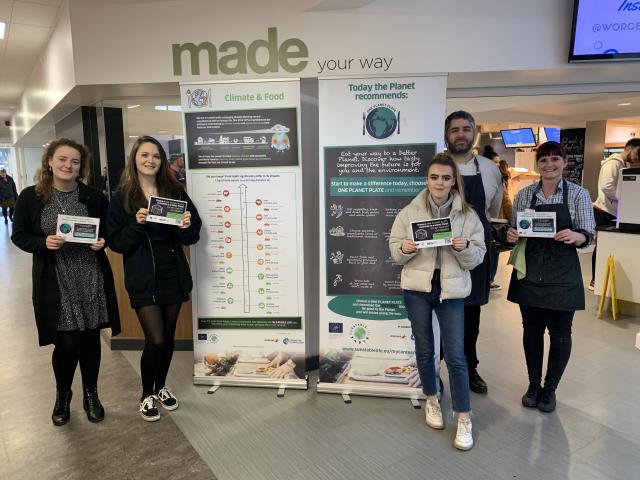 Promoting the sustainable menus at Worcester University
March 19, 2020 - 09:12
PSC100 Group members can learn from university catering teams, who are joining others at workplace restaurant sites, in search of sustainable menus.
Caterers at the University of Worcester and City, University of London have joined a European funded project to shift people to that are both healthier for them and cut greenhouse gas emissions and water consumption.
They will be joined by two workplace restaurants as part of SU-Eatable Life, a project funded by the European Commission's LIFE fund, and which is being designed and delivered in the UK by the Sustainable Restaurant Association (SRA).
It aims to be the most long-term and in-depth experiment to date with a brief to change the eating habits of thousands of students and employees, using a combination of creative menu design, rewards, data collection and social media.
"The university has been working with students to support sustainable food for a number of years, both in giving them access to local produce and providing students with the opportunities to grow their own in dedicated allotments," says Katy Boom, Director of Sustainability, University of Worcester, where the catering contract is held by Aramark.
"This project is an ideal opportunity to extend this work, with globally leading professors, achieving lasting embedded changes to both the consumers of food and drink on campus as well as the staff and external contractors who help us provide it."
Andrew Stephen, SRA chief executive of the SRA, said the project complemented its ongoing and well-established work to support foodservice to help their customers eat their way to a better food future by sourcing and and serving environmentally restorative dishes.
He added: "Two years in the planning and working both with our project partners in Europe as well as the four participating sites, we believe we've created a programme that will demonstrate it is possible to effect significant changes in eating habits with positive outcomes for canteen and workplace restaurant users and the planet."
Partners with the SRA in the project are Barilla Centre for Food and Nutrition, Wageningen University, and tech provider greenApes.
In addition to climate-friendly menus, the students and workers involved will be offered the greenApes app with video content, easy to access information about focus areas, including the environmental impact of common ingredients, health, water, and waste, plus monthly rewards and opportunities to share content.
Chefs at the four sites have spent months developing their climate-friendly dishes, which now all meet the required specifications of the SRA's One Planet Plate.
The dishes are identified on menus, helping canteen users identify and choose dishes with a lower impact on the environment, such veg-led dishes. Point of sale marketing will also be used extensively at the sites to highlight the benefits of making better food choices.
Got a story to share? Get in touch